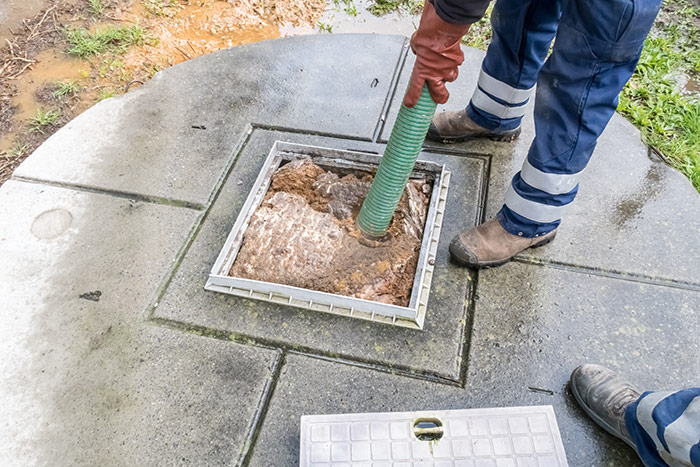 The likelihood that heavy rain will damage a properly maintained septic system is slim. However, if you've been neglecting your septic system recently, you'll be more susceptible to excess damages from rain.
The following are a few problems your system may be experiencing, causing it to crack under pressure:
Physical Damage
If any element of your septic system has sustained damage, it won't work as it should. Several different situations can cause damage to your system, such as tree roots growing into the system.
If you drive over the area where your system is installed, there can also be significant damage. Whether there's heavy rain or not, damaged pipes cannot filter wastewater at their usual rate and efficiency.
Irregular Inspections
The average septic system should be inspected every three years. If it's been more than a few years since you've last called a professional, this is a problem.
Inspections are necessary to catch and fix small problems as they occur. Getting regular checks will ensure that your septic system can survive day-to-day activities and heavy rains.
Waiting Too Long Between Pumpings
The average septic tank should be pumped every three to five years. Waiting longer can spell disaster for you and your home.
Your septic system will stop filtering water as well as it should. The buildup of sludge in your tank will also clog your pipes.
Clogs
Clogs can be a result of waiting too long between pumps or sending improper things down your drains. Sludge can clog your pipes after years of neglect. However, sending other forms of waste down your drains can create massive clogs much faster.
Cigarette butts, sanitary napkins, and diapers should never be sent down your drain. If it isn't biodegradable, don't flush it. You should also avoid using your garbage disposal, as food scraps accumulate and form clogs quickly.
Inadequate Installation
If your septic system was installed improperly, this could cause you lots of problems in the long run. Improper installation can include poor construction and system design, or installing in impermeable soil, thin soil or heavily-saturated soil. Any form of inadequate installation can make it hard for your septic system to function, especially in heavy rain.
An Overloaded System
A septic system is built to handle a specific amount of water at a time. If you're always running your dishwasher, shower, and washing machine at once, this can overload your system.
Avoid using too many appliances at the same time during a heavy rainstorm. The combination of your overloaded system and flooding can cause sewage backup into drains and groundwater.
To prevent an overloaded system during a storm, take shorter showers and only run full loads of laundry and dishes. Overall, do your best to conserve water by limiting non-essential use.
Source: upgradedhome.com