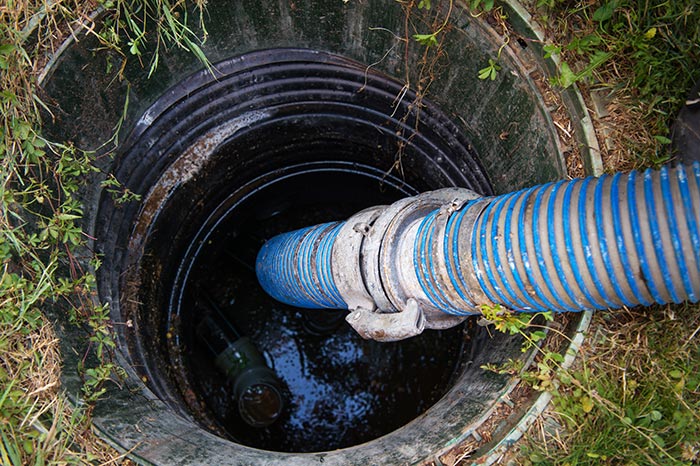 A septic system failure causes untreated sewage to be released and transported to where it shouldn't be. This may cause sewage to come to the surface of the ground around the tank or the drainfield or to back up in pipes in the building.
Pipe from the house to the tank is clogged. When this happens, drains drain very slowly (perhaps slower on lower levels of the building) or stop draining completely. This is often an easy problem to fix. Usually, a service provider can "snake the line" and get it unclogged. You can prevent a clogged line by flushing only human waste and toilet paper down the drain and having your system inspected annually. Sometimes this pipe gets crushed or broken by vehicle or animal traffic. Plant roots sometimes block the pipe (particularly on older systems). Fixing a crushed or root damaged pipe will require replacing (at least) a portion of the pipe.
Inlet baffle to the tank is blocked. This failure is very similar to when the inlet pipe from the house to the tank is clogged. If you have access to your inlet baffle opening, you can check to see if there is a clog. If you see toilet paper and other debris, you can try unclogging it using a pole. Be mindful not to damage any of the septic systems components. A service professional can also be contacted for this relatively easy and low-cost fix. Prevent your inlet baffle from getting clogged by only flushing human waste and toilet paper and having your system inspected annually.
Outlet baffle or effluent filter is clogged. This may result in sewage backing up into the home, or possibly surfacing near the septic tank. This issue may be a sign that the tank is receiving too much water, possibly in a short amount of time. If there is an effluent filter this must be cleaned off or replaced. If there is not an effluent filter, fixing this issue will probably require getting the tank pumped to identify and remove the clog. Prevent this type of issue by cleaning your effluent filter (if you have one) and having your system inspected annually.
Drainfield has failed. When the drainfield fails, or is saturated with water, sewage may backup into the home. Wet, soggy areas may develop above or near the drainfield and you may see spongy bright green grass over the area. There may also be odors near the tank or drainfield. This could be the end of life for this component of your septic system. It may be that the system was operated inappropriately and too much solid material made it to the drainfield causing it to fail prematurely. Or, maybe the system worked for many years and simply has no more capacity to accept waste. However, if too much water has saturated the drainfield (through large amounts of water going down the drain or through flood water on the drainfield), it's possible that the drainfield can be dried out and rehabilitated. Contact a service professional to assess the situation. If the drainfield has failed, a connection to the public sewer system should be considered, if it's a possibility. Otherwise, a replacement drainfield will need to be installed.
There are other reasons a septic system can fail or malfunction. If your system isn't working properly, contact Morse Engineering and Construction for more information.
Source: doh.wa.gov