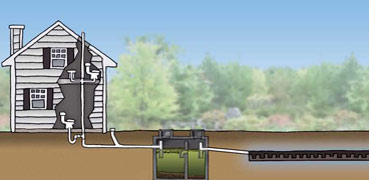 Septic systems can be installed on most properties, fitted to new construction, or built into an existing structure's plumbing system. However, there's more to septic design than simply identifying the best location for the tank and drainage field. Before the system is installed, here's what to expect from your design consultation with an experienced engineering firm.
Preliminary Tests & Design Work
Before beginning the septic design process, the property's soil needs to be examined through a percolation (perc) test. This test determines how quickly water is absorbed into the soil and allows the engineer to recommend the proper septic tank system for the site. They'll map out the best location, tank size, type, and drain field arrangement for the property.
Once the appropriate design is determined, the consultant will help you file the paperwork with the city or county so construction can begin. Without the proper permits in place, the septic system cannot be installed. Also, moving forward without the right documentation in place could result in hefty fines. Once the engineering firm secures the permits, they'll help you find the right septic installation company to ensure everything is completed up to current building codes and regulations.
Why Septic Design Is Important
Without undergoing the design process with an experienced engineering firm, there's a chance that the septic system won't work properly for the property. This means waste water won't be treated efficiently and could lead to sewage backup in the home's plumbing. Whether the site is a new construction project or you're looking to sell a property with an old tank in place, you'll need to update it before the property can go on the market. By hiring a professional engineering firm to handle the septic design, you'll guarantee that the system meets current building codes and can pass any city or county inspections.
For more information, contact Morse Engineering and Construction.
Source: connect2local