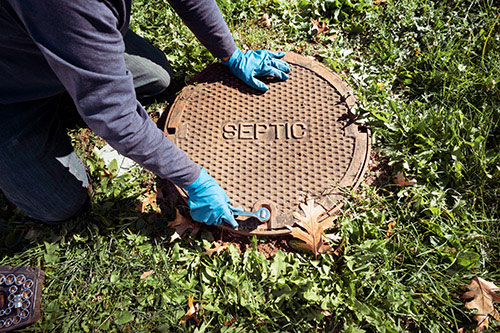 Hurricane season preparation for septic systems makes more sense when you understand the risks. The hurricane season officially starts next month, and there are some things you need to know before a major storm threatens the local area.
Hurricane impact on Septic Systems
For any type of onsite sewage system, conventional or alternative, a hurricane or flood could submerge the system. If your system is submerged, the excess water may cause a backup of sewage into the house. Look for sewage backups in the plumbing fixtures at the lowest elevations in your house as your first indication.
Flooding can wash soil away from the septic tank, drain field lines or other components, causing damage to the components or introducing raw or partially treated sewage into the yard. Flooding may also cause the onsite sewage system to operate sluggishly because the soil in the dispersal area is saturated.
If your septic tank/drain field system is damaged by the storm or if the soil is saturated, minimize water use within the house to prevent raw sewage from discharging to the ground surface. Minimize contact with sewage contaminated waters. Use gloves and protective gear and wash any exposed skin with soap and water as soon as possible. Disinfect any exposed human contact surfaces with diluted bleach water.
Onsite sewage systems may fail to operate properly during power outages that are common during hurricane season. Pumps won't work without power, but most onsite sewage systems with a pump should have 100-200 gallons storage capacity above the high-level alarm. Exceeding this storage capacity could cause the pump chamber to overflow, spilling raw sewage on the ground.
If you face this situation, use water sparingly and call Wind River Environmental for a full inspection as soon as the water recedes and power returns.
What Do I Need to Prepare My Septic System For Hurricane Season?
Hurricane preparations for septic systems should start before an emergency:
Seal the manhole and/or inspection ports to keep excess water out of the septic tank
Be sure your septic tank is at least half full with effluent to prevent it from collapsing or floating
If your septic system requires electricity,

Turn off the pump at the circuit box before the area floods
Waterproof all electrical connections to avoid electrical shock or damage to wiring, pumps, and the electrical system
Consider a power generator to run the lift station and prevent a backup into the house
Septic System Care After A Hurricane
Precautions related to septic systems include:
Avoid contact with any septic system electrical devices until they are dry and clean.
Do not pump out the septic tank more than halfway or the tank may float out of the ground until the water table returns to normal.
Reduce all nonessential water use (for example, dish washing, washing clothes, showering).
Flush toilets as little as possible or use a temporary toilet.
If you suspect septic system damage, get the system professionally inspected by contact Morse Engineering and Construction.
Source: wrenvironmental.com