Request Consultation
Septic System Design - Fiskdale, MA
Municipal sewers carry wastewater away from its point of origin to a faraway treatment plant or disposal area. On-site systems treat and/or discharge wastewater within the site where the wastewater originates. The most common type of on-site system is the septic system, also called a Subsurface Sewage Disposal System (SSDS). A typical SSDS is illustrated below and consists of a septic tank, distribution pipe, leach field or soil absorption system, and associated piping.
The proper operation and maintenance of your SSDS is essential to protect the environment and prevent possible public health hazards. Failure to perform routine maintenance, such as pumping the septic tank at least every three to five years, can cause solids in the tank to migrate into the drain field and clog the system. Even with proper maintenance your SSDS may fail due to an inappropriate design, as systems that are installed at sites with high ground water tables, poor soils or excessive slopes can cause hydraulic failures leading to expensive repairs.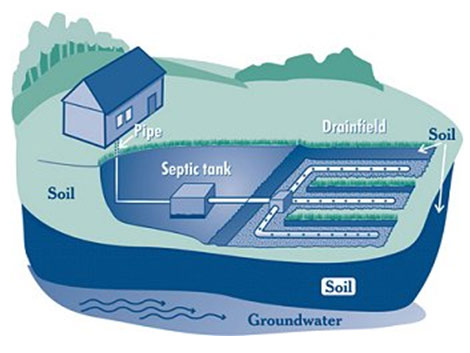 Request Consultation
In Massachusetts, the design, construction, inspection, upgrade and expansion of on-site sewage treatment and disposal systems is regulated through 310 CMR 15.00 of the State Environmental Code, also known as Title 5. The design process for upgrading an existing system or installing a new system is similar and can be summarized by five key elements:
Determine Design Flow
Classify Waste Strength
Test Soil Permeability
Identify Limited Layers
Observe Site "Geography"
Each element of the design is as important as the last, and any oversight may lead to premature failure of the system. Not every site is easily developed and the design professionals at MEC look forward to addressing the challenges associated with difficult lots that were not properly designed in the past or have remained undeveloped. Our in-depth knowledge of Title 5 combined with our understanding of the most up-to-date technology gives MEC the ability to successfully design systems that other may not be able to.
Contact us at (888) 380-5298 to discuss your project and learn how MEC can take you from initial planning stages through final construction.